We lead the park model industry in both quality and innovation.
Every Woodland Park product goes through a battery of tests and a rigid final inspection process to ensure our products meet the high standards set at the factory level.
There is a 10-year warranty on our residential furniture line, a lifetime warranty on our vinyl siding, and a 3-year structural warranty.
Woodland Park follows rigid building standards (ANSI 119.5 standards and Canada standard Z-241).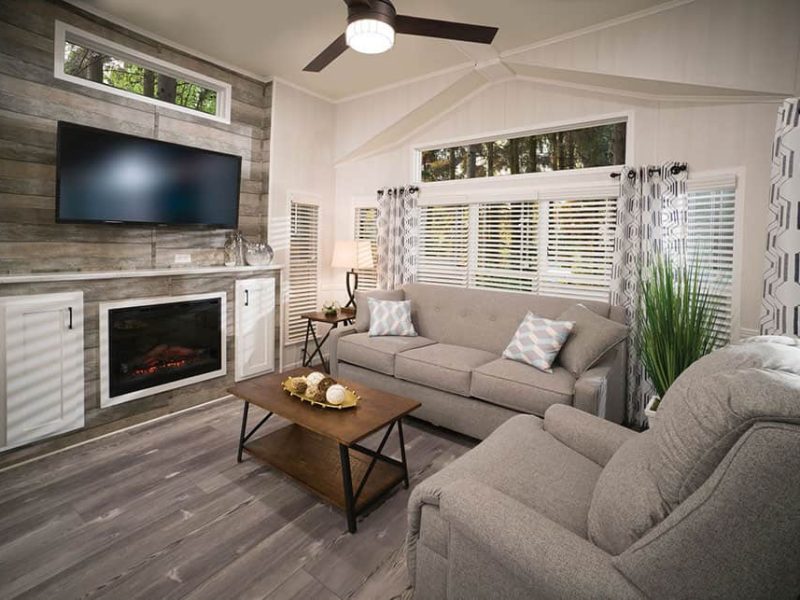 Woodland Park models come with exclusive features and are built with the highest quality construction methods.
10-inch steel I-beam frame with a detachable hitch
Framed with number-two grade lumber
Floor systems feature double 2 by 6 perimeter floor joists
Insulated fiberglass heat ducting
Transverse 2 by 6-floor joists 16 inches on center
Ample r21 insulation throughout
Heavy-duty 3/4 inch plywood tongue-and-groove floor decking topped with high-quality carpet
Durable PVC individual tile flooring
Walls are over-engineered with strength in mind
40 PSF certified roof trust rafters
Every roof is insulated with r21 insulation and an optional layer of radiant foil and covered with winter guard underlayment
Built-in eave baffles and rich vents ensure that the roof system is fully ventilated
Whether you choose shingles or metal roofing you are covered by a full lifetime warranty
Comfortable and Efficient
Comfort and efficiency are a big deal at Woodland Park.
Sidewalls are insulated with r-13 insulation bats followed by a top-to-bottom layer of optional radiant foil foam core.
House wrap radiant foil is a premier option at a crucial point in the manufacturing process and works to maximize the efficiency of the insulation.
Solid vinyl windows and patio doors are also sealed with expandable foam insulation and waterproof flashing tape.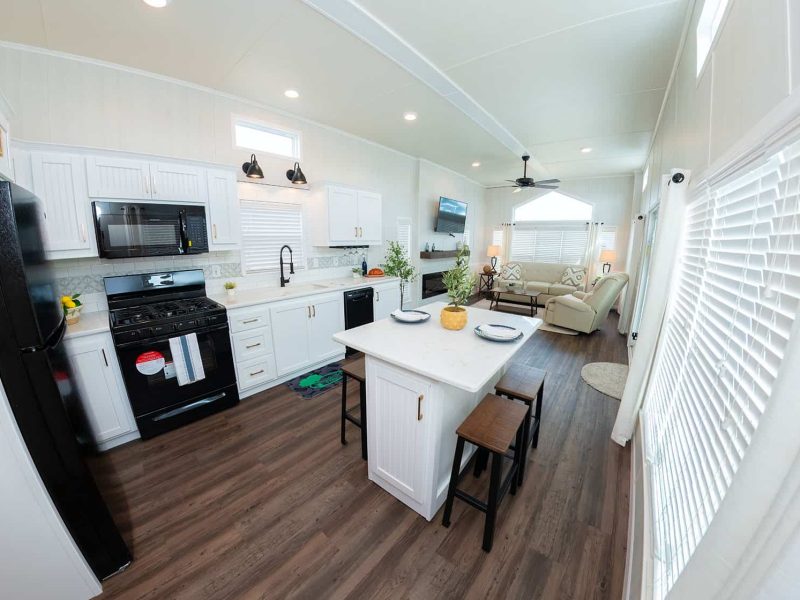 Work with our interior designer so your park model is a reflection of your own personal style.
A range of custom-built cabinet and countertop options so you can create a look and feel that both meets your budget and your style.
Each cabinet is installed with precision and care.
Soft-close cabinet doors and drawers as well as hidden hinges you get a quality that you can see and feel.
Residential-quality furnishings.
Connect with one of our knowledgeable dealers, get pricing, explore customization options.